WE ARE STRATEGICALLY LOCATED - CHECK WHY: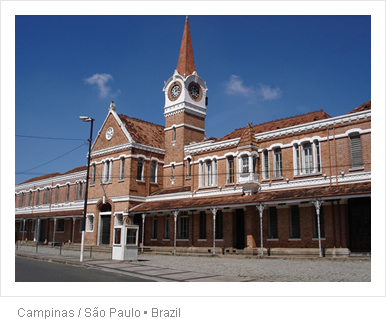 Our headquarters are located in the city of Campinas/Sao Paulo, less than 45 minutes (by airplane) far from Rio de Janeiro, where the headquarters of the Brazilian Patent and Trademark Office are located. We have representative/associated offices located in Sao Paulo, Rio de Janeiro and Brasilia.
ADVANTAGES FOR THE LOCATION OF OUR HEADQUARTERS IN THE CITY OF CAMPINAS:
• Campinas is recognized as the Brazilian science, technology and innovation capital, counting on the largest R&D centers in Brazil, as well the University producing the largest quantity of patent applications in Brazil, Unicamp.
• It is one of the 10 cities with the largest quantity of business events in the world, about 6,000 per year.
• It harbors the largest cargo airport in Brazil (Viracopos), which is already among the largest passenger airports in Brazil.
• It has the highest sanitation and energy supply quality rates in the country.
• It has 18 graduation schools and qualified handwork in all fields of knowledge.
• It has the first company accelerator among Brazilian towns, promoting the capacitation of technology companies and the search for risk capital investors.
• It is the fourth largest city in Brazil in number of bank branches.
• It has the second highest connectivity level in the country.
VIRACOPOS RECEIVES WORLD SECOND PRIZE IN CARGO
The Viracopos International Airport, in Campinas, went from the best cargo airport in Latin America to the second best cargo airport in the world. Both titles were granted to the terminal in the end of 2016 and this year, respectively, by the Air Cargo Excellence Awards. The awards lists the best performances in the area of ​​global air transportation and is granted by Air Cargo World, one of the main publications in the area.